"Probing" into CPTu Testing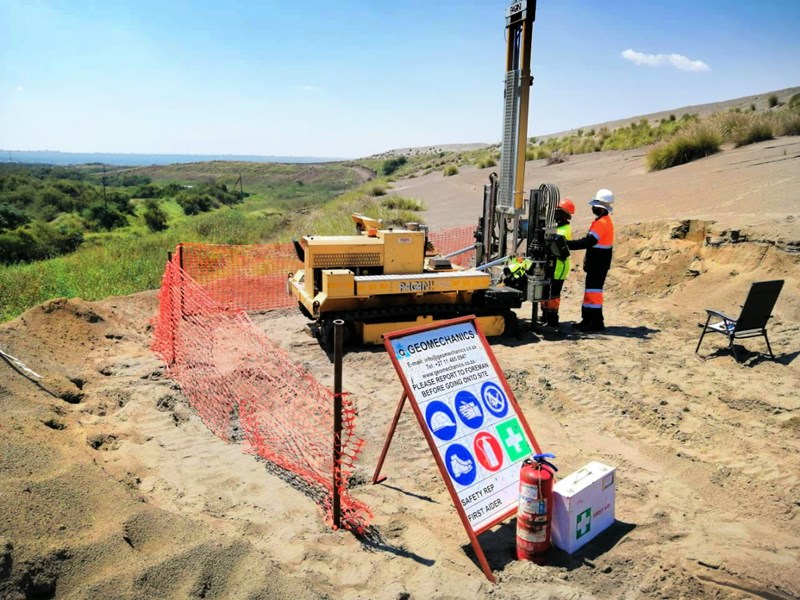 "Probing" into CPTu Testing
North West Province, South Africa

WHAT IS CPTu TESTING?
A cone penetration test with pore water pressure measurement, or CPTu, is a static penetration test with water/pore pressure measurement. While advancing the calibrated probe at a constant advancement rate, the probe records the resistance at the tip (qc), the dynamic pore water pressure (u2) and the local friction between the cone sleeve and the soil (fs). Some of the objectives of conducting CPTu testing are to identify subsurface conditions, soil classification, detect layers, measure strength as well as determine deformation characteristics and the permeability of foundation soils.

Jones & Wagener, a specialist firm of consulting engineers and scientists, commissioned Geomech Africa to do a round of supplementary CPTu at a site in the North West Province in South Africa. The mandate was to gather as much information as possible by means of CPTu testing and to capture reliable dissipation data.  Tailings dams are well known for variability both with depth and spatially. This variability can be seen in the hydraulic properties, layering, strength characteristics, pore pressure regime etc. The CPTu test is very useful in this sense as the highly specialised sensors in the cone provide the user with the required information to determine the above-mentioned, albeit by direct measurement or by empirical means.

Geomech Africa completed 15no. CPTu tests, with 190m of probing and 1 953 minutes of dissipation testing.

All site activities went smoothly with one or two exceptions. After one of the tests, the threads on the auger shaft stripped. This left the team without a way to anchor our TG73-200 (200kN) rig on the next location. Luckily, they managed to find an engineering workshop in the immediate vicinity that could assist with the necessary repairs. The diameter of the augers also proved insufficient to supply the rig with enough reaction force in the loose tailings material, thus larger diameter augers were arranged for the project which enabled the team to sufficiently anchor the rig to complete the tests.

The team was also met with a few challenges of getting the Pagani CPTu TG73-200 rig to some of the test locations. With the aid of an excavator supplied by Jones & Wagener's client and some quick thinking, alternative roads were constructed which they used to get the rig in position.

"Even though the days were long, hard, and blisteringly hot, the project went smoothly and according to schedule. After pushing ourselves to the limit and keeping the good name of GeoGroup well respected, we impressed the client by exceeding the required number of tests per day. Working with Jones & Wagener was an incredible experience. They have yet again proved why they are one of the biggest and most respected names in the industry." – reported Meldt van der Spuy, Geotechnician at the GeoGroup.