Conducting Testing in Difficult Conditions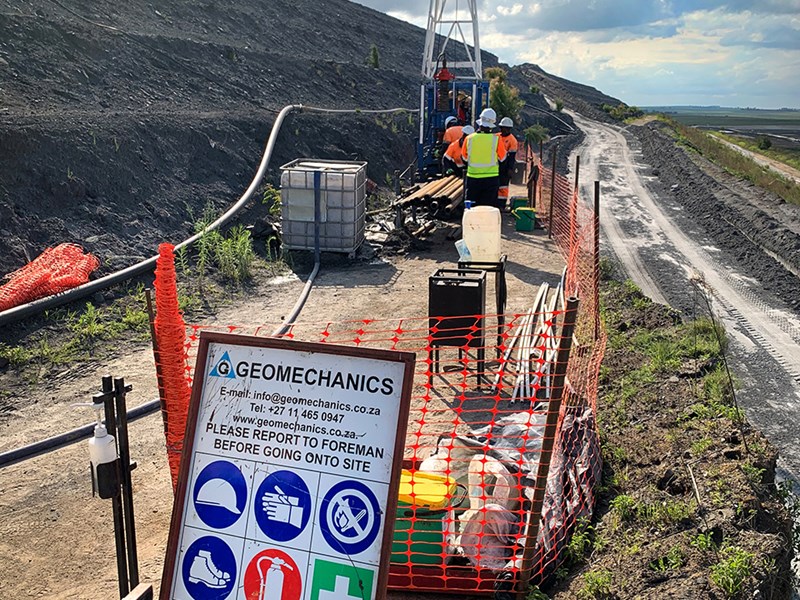 Concerns about the stability of a tailings dam require specialized testing and analysis in order to gather sufficient data. This was a task well suited for the Geomech Africa Team. In 2020, a client required the services of the GeoGroup to conduct Cone Penetration Tests (CPTu) and field Vane Shear Testing (VST) at a site in Mpumalanga.
The project required the team to conduct 20no. CPT tests on the Northern face of a tailings dam and an additional 4no. CPT tests on the Southern face of the tailings dam. In addition, the team also had to conduct VST tests at each location at 1-meter intervals from the start to the completion of each hole. This amounted to a total of 400m drilling and 400m of vane shear testing that had to be completed.
On initiation of the project, the team ran into various challenges while on site. They soon realised that the soil was much coarser than what they initially had anticipated. This made it extremely difficult for the CPT probe to penetrate the soil. In addition, the coarse nature of the soil also made it very difficult for the vane shear tests to be conducted smoothly as the test is mostly effective in soft to medium types of soils. Although it was a tedious process, the team was able to conduct all the tests at the various locations.
One of the toughest challenges for the crew was in securing the CPT rig to the bed of the truck more efficiently. With the soil being very dense, the CPT rig struggled to reach refusal. Not only did this cause some delays to the project time frame, but more importantly affected the stability of the rig while the tests were running. The site crew and technical team knew that a different approach was necessary if they wanted to finish the project on time. To solve the stability concerns, the team crafted custom made hooks that secured the rig to the chassis of the truck. This added much-needed stability to the CPT rig. With these hooks in place, the team was able to conduct all the tests successfully and safely at the required locations.
After being on-site for nearly 2 months, the project came to conclusion later in February 2021. Despite all the setbacks, the team did a great job and were able to complete the project without any injuries on duty, and a satisfied client.
"The lessons learnt during this project were life-changing. Learning truly starts when you start working." – Meldt van der Spuy (GeoGroup Site Manager)