Geopile Africa | Expansion of M13-Essex Terrace Underpass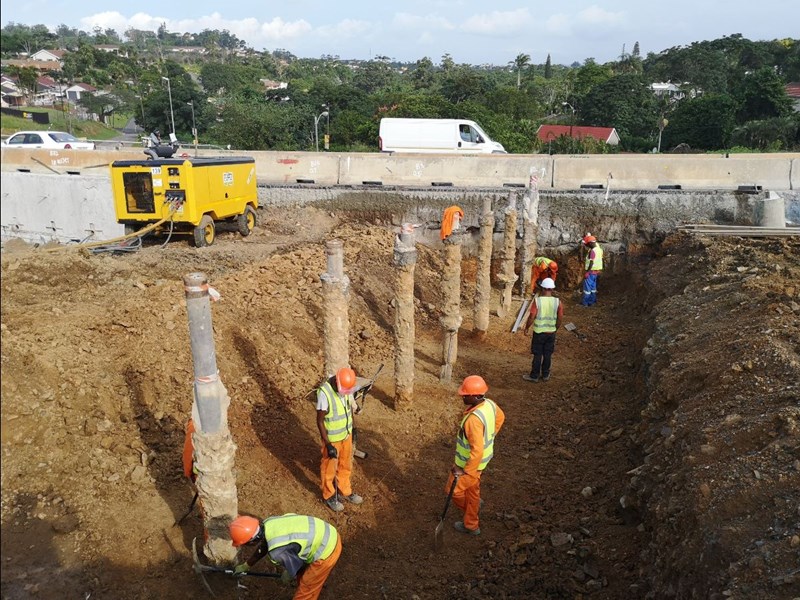 Geopile Africa was recently contracted by Cape Town based company, EMPA Structures, to install piles and lateral support at the M13-Essex Terrace underpass for the eThekwini Municipality. Another span was added so that an additional 4 to 5 traffic lanes and pedestrian walkway could be provided to increase capacity. 

The concrete specialist contractor, EMPA Structures (our client), came up with the construction sequencing to do the entire build as quickly as possible – which meant installing the Northern Abutment piles, pile cap and the concrete deck on top of the in-situ material, then diverting traffic onto this Northern side, before starting with the Southern Abutment. Our team offered an alternative solution to the soldier piles postulated for the entire abutment, whereby ductile iron piles would carry vertical load only (some minor bending and lateral loads at pile head), with grouted anchors and mesh offering lateral restraint to the abutment.

Lateral support was required to approximately 6 - 8m high, with bedrock 3 - 5m below road level, and vertical loads from the bridge. The height of the retained soil vs the level of bedrock meant that the piles had to be installed in a percussively predrilled hole 2-3m below the underpass road level to ensure that refusal did not occur before the toe of the pile had passed a safe enough distance past the road level of the underpass.  Piles were to be installed into pre-drilled and pre-grouted holes and driven to refusal.  The piles we used were 170mm x 9mm Ductile Iron Piles – taking a working load of less than 850kN SLS.

Lateral support comprised of grouted anchors (up to 8m long), which tied back shotcrete and galvanised mesh layer of almost 200mm. The client had specified the finish of the shotcrete to be "off-shutter" in order to mimic off-shutter cast in-situ concrete.  To produce this finish, wooden straight edges were placed vertically to provide a form to work to. Once the level of the shotcrete reached the wooden form, it was hand screeded and finished with the addition of some OPC cement and water and hand trowels.  This step was repeated in maximum height drops of 1.5m.
"Great work by Geopile on the Essex Terrace Underpass. The unique, innovative and non-intrusive new bridge abutment solution comprising economical and huge time-saving benefits by installing cast iron ductile piles. The front face of the abutment was a shotcrete wall which was floated to an astounding high-quality smooth finish. New construction concept to certainly be considered and used in the future!"
 
Jitesh Harripershad  PrEng, Bsc, MSc, MSAICE
Chief Civil Engineer
eThekwini Municipality – Engineering Unit – Roads Provision – Structures Branch